Solar inflatable lantern light waterproof foldable solar camping light
Description
Product Description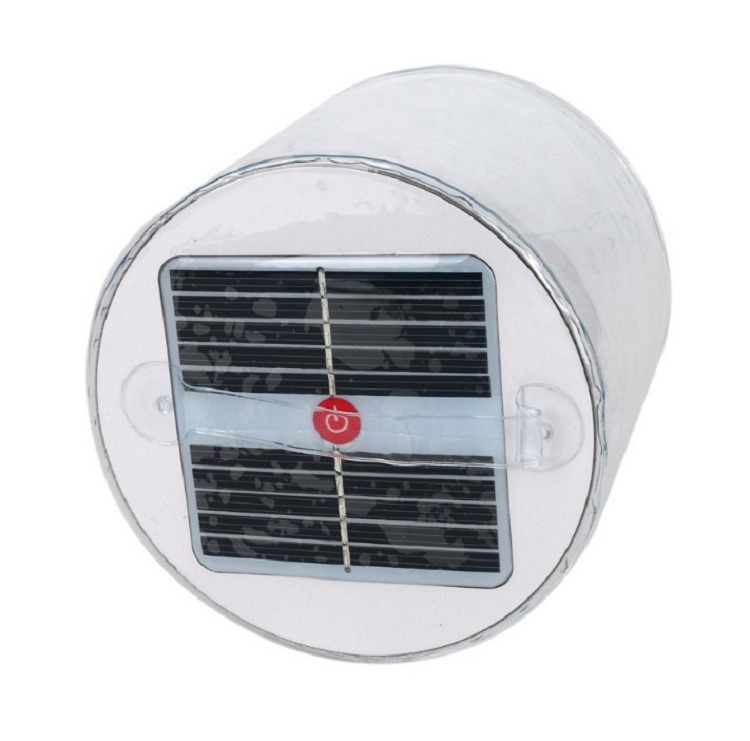 Solar Lantern Tech Paraments:
1. Size: about 11cm high
2. Brightness: Approx. 50 Lumens to illuminate 100-150 sq. ft
3. Solar Charge: completely Solar Powered. Charging within 8 hours of normal day light
4. Solar Panel: 5V/120mA /0.6w
5. Solar Panel Size: 80 x 80mm
6. Li-battery: 3.7V/1000mAh Lithium Polymer
7. LED: 10pcs LED
8. Charge Time: 8 Hours
9. Working Time: 5~12 Hours
10. Accessories: inflator
11. Marterial: PVC
12. Waterproof: IP65
13. Temperature: heat range is up to +50°C
14. Rechargeable lithium polymer battery pack;
-300-500 cycle life Over charge/ discharge protection
-Over current and short circuit protection
15. Energy & Space Saving! Retains a 50% of charge for 1 year if inactive
16. Charge in both direct sunlight and incandescent light
17. Setting: adjustable, more than one brightness setting.
18. No. of packs in a carton: 100pcs
19. Carton Weight: 15.50KG
 Solar Lantern Features:
1. Light Time: 6 hours on high mode, 12 hours on low mode
2. Brightness: 90 Lumens on high mode, 40 lumens on low mode
3. Charging Time: can be fully charged by 8 hours of exposure to direct sunlight
4. 3 Lighting Mode: High, Low and Flashing
5. Material: 100% waterproof transparent PVC
6. Handle: In-built carry strap for easy carrying or hanging purpose
7. Pack: individually packed in deflated state for convenient transportation and can be easily inflated
8. Can be branded with simple text.
For Wholesale Business:
1.Can I have sample of solar inflatable light lantern for testing ?
Yes, any sample order is welcomed.
2.What's delivery time if we place an order for the solar inflatable light lantern ?
It is depend on order quantity,usually,2-5days for sample order,5-15days for bulk order,
please let's confirm when you place order.
3.Could you help us print our logo on products or other customization?
Yes, we can assit to print your logo on products or other customized requirement.
4.how could we make further communication ?
yes, please kindly contact us by email (tmg@techmaxing.com )or other communications ,thanks!